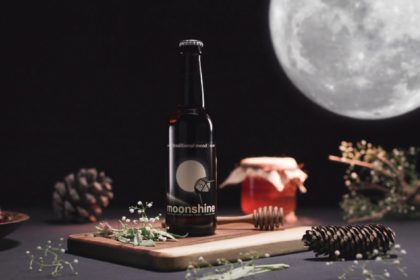 Moonshine Meadery was a new entrant in the competitive market of alcoholic beverages. They had a unique product that no one else in the country had – Mead. It had given them a cult following as a brand. But now, the company wanted to engage a wider audience and let them know that they had arrived, bringing along with them three excellent new mead blends. It was time to rebrand.
They had already gotten prominent artists to design the labels for their 3 main blends, but they needed to tell this story as visually as possible. This is where LMB's relationship with Moonshine kicked off. In order to reach out to a larger audience and grow, they decided to focus on their new logo—the moon and the name 'Moonshine.'
The Goal
The goal was to take the brand from being a new alcoholic beverage on the block to a being associated with an alternate lifestyle. One that has a deep appreciation for art, music, and the finer and more chill things in life.
As part of their rebranding efforts, they needed videos that would establish the identity the nature and the texture of the brand and the beverage across social media. We made three videos, one for each of their primary blends, highlighting not just the new logo, but the ingredients, the voice and the feel of the brand, thereby helping them establish their new identity on social media.
Using film as a multisensory medium capable of adding tones and moods across visual and auditory elements, along with the pacing of the actual content, our focus was to maximize each Moonshine blend to its fullest to create a 'true essence' of the brand. And as is our motto, the narrative of each blend had to take centre stage.
Our Approach
Our first step was to spend time with the founders to understand the vibe of the brand and where they wanted to take it. It was clear that these enthusiastic creators had a lot more to them than companies just thinking about making a drink for profit. They pursued this dream for the craft of creating an excellent mead. The wanted to let their consumers know that the best way to enjoy an excellent mead is out on a fun day, surrounded by good vibes, nice people and great music. This honesty and genuine warmth were at the core of their rebranding efforts and understanding that helped us tell their story.
It was also just as important for us to understand the ecosystem that Moonshine had a presence in. They shared valuable information as to the kind of restaurants and bars where their meads were sold, the kind of events that Moonshine participated in, the demographic they are attracting etc.
Put together, ideas and words began to emerge that underscored the brand identity – fun, sophisticated but not self-serious, craftsmanship, premium. Guided by these ideas, we developed a concept that would showcase the quality ingredients of each of the blends, lit up by moonshine.
We showed our mood board to the client, it was approved and boom! It was time to plan a shoot.
We headed out to Mumbai & Pune to interview the three artists for their story and inspiration for each design, along with visuals of them at work and midway sketches of the labels. Back in our studio, our art director set about to design and procure elements that would highlight each blend in its own unique way. Screen tests and lighting tests were done to ensure the tone was preserved across all three shoots. After all, quality is pointless without consistency.
Thanks to our in-office studio, we had complete control over every detail and the shoot went without a hitch. VFX for the moon and editing went on simultaneously for efficiency. Extreme care was taken with the music to ensure that all the individual elements so carefully crafted were complementing each other to create the brand that is Moonshine.
The Result
The rebranding campaign was very successful. It ensured that the old logo and name were retired gracefully, with a new colourful and more fun one taking its place. Our contribution to the campaign was just as successful, social media was all a-twitter (teehee) at the new look and we are thrilled to say that Moonshine Meadery is now onboard as a permanent client.
Now, we get to shoot a lot more of their facilities, their processes, the events that they participate in and once in a while, Moonshine calls us over for tasting their more radical but delicious experiments with blends. Who says you can't have your cake and eat it too?
P.S. Do try the amazing blends that Moonshine puts out, they really are something else.