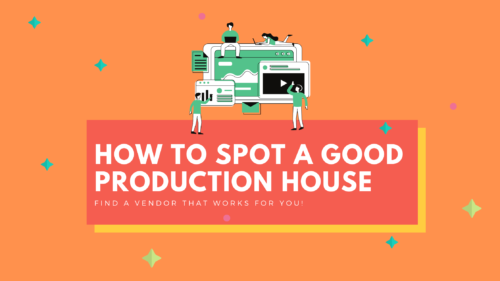 Digital video production is disrupting every sphere of our lives, from entertainment to corporate communication to marketing.
In 2017, 63% of marketers used video. Today it stands at 87%!
Marketers who use video grow revenue 49% faster than non-video users.
68% of the general public opted to learn about a new product or service through video.
Video on a landing page can increase conversions by 80% or more.
46% of users act after viewing an ad.
Viewers retain 95% of a message when they watch it in a video compared to 10% when reading it in text.
In a world where video is booming, you can't be left behind. So here are the things you need to check for when hiring a video production company:
Their Capabilities
There are two kinds of video production companies. The first kind outsources parts of a project like scripting and editing or hires freelancers on a project by project basis. Choosing such a company come with a few risks. They could have difficulty finding a competent freelancer or even have problems with the chosen freelancer leading to indefinite delays. Communication in such a system will be stretched out and can go slower than expected. Making any little change at any part of the process takes longer and in some cases, is impossible without paying more. If they don't own the equipment they use, availability of the gear might be a problem.
The second category is where a production house offers complete end to end capabilities. This means that they would have an in-house team skilled in scripting, shooting and editing. As these teams would have worked together on multiple projects before, it would translate to better output. Ideally, the company should also own or have easy access to professional cameras and audio gear. And finally, for post-production, they should have powerful machines capable of handling TB's of data for editing and animation purposes.
The final decision could very well be dependant on your budget, but it is important to understand the risks and rewards of choosing either of the options.
Their Experience
Chances are that if you search for production companies in your area, you'll find a whole bunch of results. You could check their google reviews or Facebook page for basic information, but to know the true quality of work they can provide, you'll have to go a bit deeper.
They should have a website and a Vimeo/Youtube channel where you can view their demo reel and other work. Check the quality of work to ensures it matches your requirement. A good demo reel will be able to showcase the of projects, variety, quality and not to mention some editing skills. (To see an example of a good demo reel check out ours Here.)
You also need to check how many years they have been operational for. If you're going to be spending a lot of money, it is important to choose a trusted company. Go through their previous clients. Read their client reviews, check if they have won any awards. Checking these aspects is important if you want to be sure that the team you're hiring is up for the job.
An inexperienced team could not only make your video have a lacklustre narrative or shaky/amateur visuals, but it could also cost you money in lawsuits, say if they have used music they don't have the rights to, or forgotten to sign the relevant release forms for actors and models.
Their Process
Any video is a result of creative flair held up by technical skills. An imbalance here can result in a visually appealing video that is just not engaging or an engaging story that just looks dated.

This balance between creative and technical skills is achieved through following a process that gives due attention to both aspects. This is indicated by the process followed by the production company.
A professional team will enquire about your intended audience, the purpose of the video, the platform where it will be viewed, and if you have/had any references in mind. Their approach will be to understand the client's needs to make the right narrative around it. You might have an idea in mind but be sure to ask for more concepts and ideas from their end. Not only does this open up options you might not have thought of, but good options from their end also shows they have the vision and the creativity to ideate and put together a story in the edit.
Before the actual production, the script, tonality and treatment should be shared with and approved by you. Because once production starts, it is not advisable to change the look and feel of how the intended video, as it can diminish the video quality.
Production and post-production is where your participation will be minimal, and the video team will do the job asked of them. But once the first cut (the video equivalent of the first draft) is done, it needs to be shared with you for feedback. This is an opportunity for discussion to find solutions to your concerns if any, and for the team's professional opinions on the said feedback. This is how you get a final product that meets your requirements with a strong creative foundation that makes your story engaging.
This can sound like a complex process, but on every project, the video team will have a producer as your point of contact to clarify any part of the process. In summation, a successful video is very much dependant on strong open communication, and it is vital that your video vendor is open to such a process.
The Budget
The cost of a video is going to be dependant upon the storyline and the idea more than the duration of the video. And as the saying goes, you get what you pay for.
But it's important to know where and how the money you paid is going to be spent. Ask for a detailed breakdown, process-wise. A good transparent budget should give you the costs for scripting, storyboarding, equipment, lighting, cast, crew, the number of days of shoot, logistics, editing, colouring, music, voiceover if any and so on.
Ensure there are no hidden charges, and enquire if there will be a situation where you'll have to pay more than what's stated. Ideally, once the scope of the video, the script, the number of shoot days, the equipment and crew is fixed, there shouldn't really be a scenario where the budget overshoots.
That's All Folks
We hope this post helped you to understand what to look out for when hiring a video production company. If you have any questions, we'll be happy to answer them. If you're interested to get a video made, drop us a mail at [email protected]. We'd love to hear from you.
(sources for the statistics mentioned above)